How to create a Google Business Profile & Optimize It
August 8, 2022
6 minutes read
Creating a Google Business Profile account allows you to manage how your business appears on Google. For example, you can add up-to-date hours, location, photos, and more. The average Google Business Profile generates about 1,260 views over thirty days–free marketing! This article explains how to create a fully optimized Google Business Profile and make the most of this handy tool.
First create a Google Business Profile account
Before you can manage or optimize your profile, you'll have set up an account.
How to set up the account:
Go to

www.google.com/business

Click the

Manage Now

button

Add your business name

Choose the category to represent your business. The more specific the category, the better.

Not sure how to choose the right category? Check out what your competitors are choosing. You'll recognize the primary category in their description by the star in front of it.

Add the following essential information about your listing immediately:
Address

Phone number

A website link

Regular and holiday working hours
      6. Verify Your Business
Now that you've claimed your business on Google by setting up your account, follow these key points to turn your listing into a customer magnet.
How to edit your Google Business Profile
Log into your Google account with the email you used to register your business on Google

Then do a Google search for your business

You will see your Google Business Profile on the results page in its own section with a button for Directions, Website etc. 

Click on

View profile

Click

Edit profile 

Now you can edit your business information, add photos, update your hours, and more.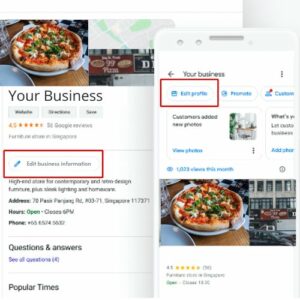 5 Tips to Optimize Your Google Business Profile 
#1 Write your
From the business
section
Adding as much information as possible to your GMB profile helps you rank higher in the search results. Make sure to write the From the business section. Use most of the 750 characters allowed and share the crucial information in the first two sentences. Include keywords the average customer might use to search online for a business like yours, such as "pizza Sarasota" and "garage doors Pinewood."
#2 The Right Category Creates a Stronger Profile
A good GMB is vital for attracting new customers. A Google My Business Insights Study found that 84% of overall GMB searches are discovery-based. This means most consumers use Google Business Profiles to research businesses rather than directly investigate a particular company. So you want your business to rank among the first listed for your category. 
Choose the specific business category that best represents your business. The more specific the primary category, the better. For example, a restaurant shouldn't select "restaurant" as their category but opt for a category like Asian Fusion Restaurant, Buffet Restaurant, or Burrito Restaurant to more accurately identify their cuisine. 
Pro tip: Not sure how to choose the best category? Check out what your competitors are choosing. You'll recognize the primary category in their description by the star in front of it.
Choosing a category enables you to access many category-specific features that make your listing more profitable. For example, by categorizing your business as a restaurant, you get the option to post the menu, accept reservations, and take online orders through your Google Profile!
#3 Visual Representation Is Key
As Google advances in image recognition, high-quality photos are becoming more critical for search results. Statistics show that quality images increase the chances of consumers requesting driving directions to your business by up to 42%. It's also proven that good photos can grow your web traffic by 35%.
Ways to optimize your Google Business Profile visually:
Use your business' logo as the thumbnail image
Don't use stock photos or photos with special effects
Make sure your cover photo size is 1024 x 576 pixels
Use high-quality images that show off your location, interior, exterior, and products/services well
Add a new image every week
Use Google Street View for 360° photos
Geo-tag your pictures to get more local reach
#4 Post Updates Regularly
GMB posts expire after a week, meaning you must post at least once a week to appear on Google's search results. We know it may seem like a lot of work. However, you can schedule posts weeks, even months in advance. Remember – the more posts you create, the better rankings and results you'll see over time! 
Pro tip: Do you have a big sale, giveaway, or critical updates to share with your customers? If so, you'll want to highlight this important piece of news exclusively. Only the most recent posts show up in a Google search, so make sure not to post any other updates six days after making the announcement. 
#5 Go After Positive Reviews 
You know what they say: a great reputation is worth more than money. And when it comes to small businesses, a great reputation is how you make money! That's why you need to do everything you can to get positive reviews from your happy customers. 
To rank your listing highly, Google looks at three aspects of feedback: high star ratings; how many keywords a testimonial has, and the number of reviews you are getting. 
Way to Get Lots of Reviews for your Google Business Profile
Ask customers for reviews while they are in your physical store

Offer a small free gift to customers that leave a review

GMB provides a direct link to leave a Google Reviews that you can share via social media, text, and email
We have seen businesses get hundreds of new reviews by offering a small gift if the customer agrees to write a Google review while they are still in the store. A restaurant could offer a free dessert, while a pool store might offer a small beach ball. 
Promenade is committed to helping local, small businesses thrive, whether that is by providing valuable tips or a complete business platform. Our ecommerce platform serves flower shops, restaurants, beverage stores, and butcher shops. 
With Promenade, you can easily get a custom website, sell online, deliver, and market. Book a demo to see how we can help your business grow.