Marketing Strategies for Butcher Shops on a Budget
August 1, 2022
6 minutes read
Butchers always meat our needs, but what about business owners who need budget-friendly marketing for their butcher shops? The steaks have never been higher when it comes to promoting your local business. Bad meat jokes aside, most shoppers no longer come across local butcher stores in their daily walks. Instead, most people find businesses online, and even recommendations come mainly from online reviews. 
That's why we've created a short digital marketing guide for butcher stores. Digital marketing might sound intimidating, but it simply means that you use digital channels like social media, the web, and email to reach customers online. You can't ignore it because digital marketing is the most budget-friendly marketing you can do.
This guide breaks down these marketing strategies in plain English so you can reach your business goals in no time.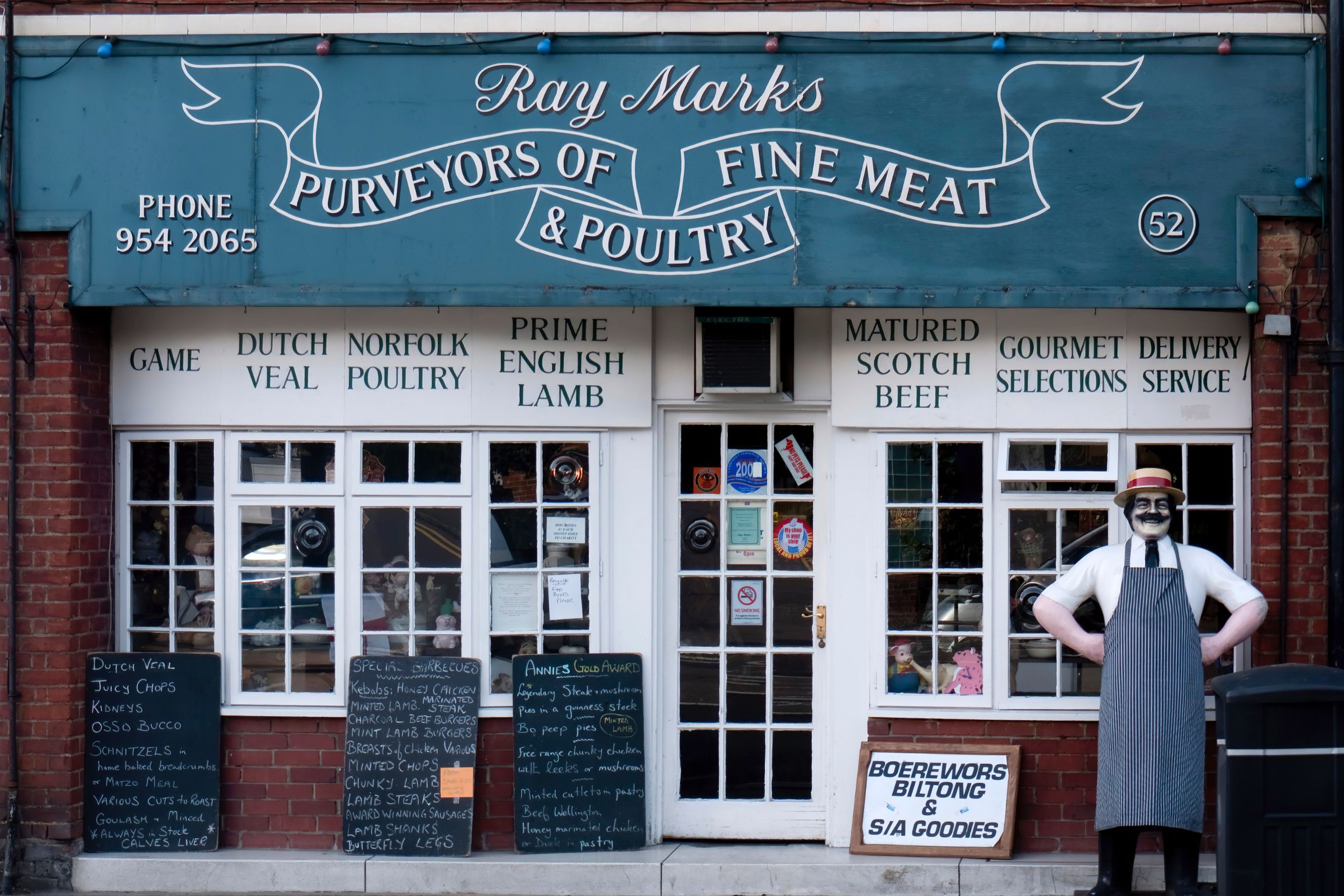 Set Your Business Goals 
Throw an ax, and you'll never hit the target–without a target! In other words, begin by establishing your goals. Get an idea of your objectives by considering the three types of marketing campaigns, each with its specific goal. Each campaign, or set of activities, targets one of the following goals: 
Attract new customers (Acquisition)

Make money from these customers (Monetization)

Keep them engaged with your business (Engagement)
An established butcher business will want to accomplish all three of these goals over the course of a month. For example, most businesses always want to attract new customers. If your butcher business is brand new, however, focus on attracting new customers. 
Continue reading to learn what simple actions you can take to reach each of your different business goals.
#1 Attract More Customers
Since 61% of all US meat shoppers purchase their meat online, and 51% of all US meat shoppers turn to sites like Google, YouTube, and TikTok for cooking and shopping inspiration. To grow your business, turn the internet into your advertising playground. 
To attract more folks to your storefront – whether it's the brick-and-mortar shop or your e-commerce website, you'll have to provide them with engaging content on social media. 
We know that meat is your specialty, and you probably never thought content would be a part of your selection as well. But most of your customers are looking for a solution to some particular problems: where to buy locally sourced meat, what cuts to buy, and how to prepare it. If you manage to answer these questions through content, you'll already be on your way to new leads and customers. That being said, what you post on social media or an email should answer their needs.
Social Media and Email Content Should Always Do One of These:
Educate

. Let your audience on some of your secrets, such as your favorite day-to-day and holiday recipes made with cuts your store provides. These short, easy-to-write content pieces won't take you long, and they'll let a whole audience of meat-eaters know about you.

Inspire.

Share inspiring business content and motivational quotes to reach new like-minded customers.

Entertain. Laughter is the shortest distance between people. So go out there, and share some of your best jokes and meat puns. Why does marketing for butcher shops need to be boring? And who can resist a humorous butcher?
To attract new customers on Instagram and Facebook, consider setting up an ad account on Facebook. This account will allow you to create ads and boost posts on both Instagram and Facebook. Boosting posts is easy! Once you add your credit card information, you will see a button to boost a post above or below the post. Choose an audience and include people in your city. Select the amount you want to spend. A good minimum budget to get results is $10/per post or $100/per month. 
Check out our guides to setting up a Facebook or Instagram Business account. Both guides have great tips, even if you already have these accounts.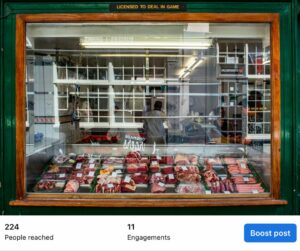 #2 Monetize
Monetization is about making you more sales from your existing customers and leads – and ultimately, more revenue. For example, if you have a good number of social media followers, don't forget to use strategies to monetize.
Ways to Get Customers to Spend More Money at Your Shop: 
Loyalty programs

– People love a deal, and racking up loyalty points can be exciting. A loyalty program with discounts is a great way to make more sales ultimately. Loyalty programs with special promotions also make your regulars feel valued and appreciated.

Email marketing

– What are specials and loyalty programs worth if no one knows about them? Email marketing is an inexpensive, effective way to keep your customers in the loop with your offers, promotions, loyalty programs, unique recipes, and any updates you may have. Have a sign-in book at your butcher shop where customers can leave their email addresses for information on sales and recipes.
#3 Engage: Customer Loyalty and Repeat Business
Engagement marketing strategies keep your butcher shop top of mind and more repeat business. Engagement also creates brand champions that spread the word about your shop. After all, we know from experience that the most beloved businesses are those that engage with their customers online.
Ways to Engage Customers Through Digital Marketing for Butcher Shops:
Social media

Testimonials and reviews

Email marketing
Engagement can also include asking your customers for written or even recorded reviews. For example, a phone video of a treasured customer explaining why they keep choosing your store can be shared over social media and emails. Such testimonials will make a huge difference in reaching your business goals. Of course, don't forget to ask for Google reviews too!
These marketing strategies can do wonders for the growth of your butcher shop. However, as profitable as digital marketing can be, sometimes you just don't have time for it. The truth is – you don't have to do all of this alone. Promenade for Butchers can help put your local business online with a website and provide digital marketing services. We offer email marketing and handling your Facebook and Instagram accounts at a very affordable price. Learn more about growing your store with us and continuing to do what you do best – just with more customers!